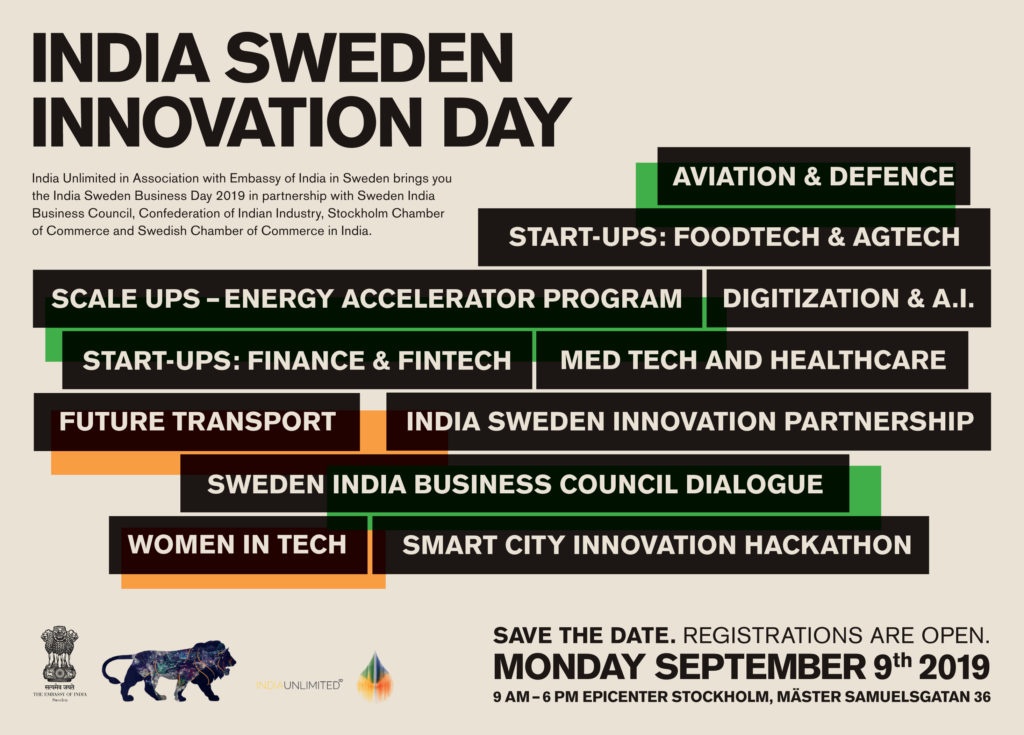 India Sweden Innovation Day
With the advent of the 4th Industrial Revolution & Globalization 4.0, we stand on the brink of a technological revolution that will fundamentally alter the way we live, work, consume and relate to one another. The unprecedented pace of technological change means that our systems of health, transportation, safety, communication, production, distribution, and energy – just to name a few – will be completely transformed.
Managing that change can create new business opportunities between India and Sweden. A synergy between these two nations on Government, Industrial, Academic, Cities and Start-Up fronts will lead to a new flavour of innovation and entrepreneurship to build domestic competitiveness. With advances in robotics and artificial intelligence in the context of aging societies like Sweden and growing societies like India, we will have to move from a narrative of production and consumption toward one of sharing, caring creating a more inclusive equitable approach.
Can India and Sweden work even closer together to solve some of the greater issues affecting all humanity. How can the Start-Up Revolution in India and Sweden contribute here? How will the Sweden India partnership using resilient and sustainable Technology, Energy and Innovation based solutions contribute to the United Nations Sustainable Development Goals and Climate Change Goals?
On the 9th of September as part of Stockholm Tech Week, we will have a focus on the creative force of Industrial/ Government changemakers, start-ups and solutionaries. Two delegations will come from India: Confederation of Indian Industry Tech Delegation and Start Up Tech Delegation with Invest Stockholm/ Sweden India Business Council. The finalists of the Smart City Innovation Hackathon held on 4th and 5th of September shall also present their final pitch.
Program Outline
08:30 Registrations and Coffee
08.45-09.55 India Sweden Innovation Partnership
Panel 1: 08.45 – 09.05 Operationalizing the India Sweden Innovation Partnership from Government/ Policy
Synergies the resources and capabilities of Swedish and Indian governments, industries and the universities to sustain innovation and help create an economic value through India as a potential market. Universities are home to the brightest minds and Industries are where the ideas from the brightest minds can be out into actions, with the support of governments through official channel.
Ratika Jain- CEO, Global Innovation & Technology Alliance
Erik Åstedt, Swedish ministry of Enterprise and Innovation
Joakim Appelqvist- Head of Department for International Cooperation, Vinnova
Ludvig Lindström- Program Manager, Energimyndigheten
Moderator – Fredrik Fexe, Executive Vice President, Business Sweden
Panel 2: 09.05 – 09.35 How to operationalize from Industry perspective
Leading pharmaceutical and tech giants will provide an industrial perspective and will enlighten us with knowledge and their valuable technological expertise. India is a market with unprecedented potential for growth and this would enable many companies from Sweden to look at India as a market opportunity. The solutions will appeal to most stakeholders involved including the government and academic institutions and how they will set base for further operations in India.
Christian Hedelin, Chief Strategy Officer Saab AB        
Niklas Gustafsson, SVP CTO Office and Volvo Group Chief Sustainability Officer
Mats Norin, Manager 5G for Industries, Ericsson
Anna Åsberg, Vice President Operations IT, Astra Zeneca
Sarbajit Deb, CBO-EVP, Chief Business Officer, Nordic Business Unit, LTI
Moderator – Fredrik Fexe, Executive Vice President, Business Sweden
Panel 3: 09.35 – 09.55 How to operationalize from Academy perspective
Building upon the industrial perspectives, we will also have academicians, students from Sweden and India with holistic views that will touch various topics like economic stability, role of education and society in helping combine the resources in achieving common goals. The solutions that emerge might be abstract in nature and may require fine tuning from the industries and aid from the government.
Östen Ekengren, Executive Vice President IVL
KTH- Prof. Rajeev Thottappillil, Professor in Electric Power Engineering and Design and Regional Director for India cooperations at KTH Royal Institute of Technology.
R. Swaminathan, Uppsala University Gotland Campus
Moderator – Fredrik Fexe, Executive Vice President, Business Sweden
09.55-10.05 Coffee leg stretch
10.05-10.50 Inauguration
Ambassador to India in Sweden H.E. Monika Kapil Mohta
Swedish Chief Guest – Carl Rosén, Director-General and Head of the Business Department at the Ministry for Enterprise and Innovation
Indian Chief Guest – Ratika Jain, CEO, Global Innovation & Technology Alliance
Ambassador to Sweden in India H.E. Klas Mohlin
Håkan Kingstedt, Chairman Sweden-India Business Council
Moderator- Sanjoo Malhotra, India unlimited CEO, Tasting India Founder
10.50-11.30 Future Transport
Automotive giants, analyze the possibilities of having a cleaner and sustainable and safer transportation solutions, given India's diversity and need for efficient transportation systems. The resultant solutions should ease the load on current system, stay sustainable and affordable.
Peter Kronberg, Safety Director Volvo
Ratika Jain, CEO, Global Innovation & Technology Alliance
Jan Thörnqvist, COO Saab Traffic Management
Torbjörn Andersson, Director Autoliv
Azra Habibovic, Senior Researcher RISE Research Institute of Sweden
Filip Kjellgren, Expert in transportation and traffic safety at Vinnova.
Moderator- Niclas Ihren, CEO Matters Group and Communication Manager Smart Road
11.30 – 12.00 Energy SCALE UPS: experiences from operational work in the India-Sweden Innovations´ accelerator
The India Sweden Innovations' Accelerator focuses on innovation-based collaborations on renewable energy and energy efficiency, between India and Sweden. The objective is to build much needed bridges towards joint innovation, research, development, and deployment, which answer to shared needs and are of mutual benefit, as well to respond to the needs of growing demands in an energy constrained world that is also facing climate related challenges.
Speakers
Stefan Blom, CEO Regin
Fredrik Johansson, CEO FOV Biogas, Sweden
Joseph Arulappan, CEO FOV Biogas India
Andreas Molin, CEO PPAM Solkraft
Ludvig Lindström, Program Manager, Energimyndigheten
Moderator – Rupali Mehra, Journalist and CEO Content People AB
12.00 – 12.35 Aerospace, Aviation & Defence
Industry 4.0 in the aerospace industry. Smart Innovation systems in aviation & defence especially, Future proof avionics design solutions, Using Space for collaborative efforts for Innovative solutions.
Lisa Åbom- CTO Aeronautics SAAB
Peter Engberg- Head of Traffic System
Stefan Gustafsson- Chief Strategist Swedish Space Corporation
Ann-Kristin- Adolfsson, Managing Director Saab Ventures.
Moderator – Sanjay Suri European Correspondent CNN TV18
12.35 -13.10 Networking Lunch
13.10-13.20 Start Up Tech Delegation
Presentation by Air India, Invest Stockholm and Brandie on the Start-Up Tech Delegation and Flight to Stockholm for India Sweden Innovation Day and Stockholm Tech Week.
Sangeeta Sanyal, General Manager Sweden, Air India
Anna Gissler, CEO Invest Stockholm
Pranav Kosuri, Brandie Founder
13.20 – 14.00 Women in Tech
Women in Tech is an ecosystem with multiple industry leaders as partners, with a purpose pf empowering and increasing women's presence in technology industry. This involves supporting the current crop of women working in tech and drafting measures that encourage more women to join tech field.
Malini Agarwal, Founder, Miss Malini
Lisa Åbom, CTO Aeronautics SAAB
Shauravi Malik, Founder Slurrp Farm
Sreemoyee Malakar, COO, Lawcubator
Sanjay Suri European Correspondent CNN TV18 – Moderator
14.00 -14.40 Digitization & A.I.
The various industries and government have witnessed many applications of AI in recent years, which mainly consist of digital assistance, target advertisements, Cyber security, use of artificial intelligence in healthcare, governance, administration, policy making and exploring further possibilities of a safer and easier life. These will provide the necessary major boost to the digital transformation for both India and Sweden. Addressing the common myths and understanding why Digitalization and A.I. are the way forward.
Shubho Ghosh Director – Business Development Larsen & Toubro Infotech Ltd.
Chandralika Hazarika, MD Bightinx
Shruti, Formulate IP
Ashutosh Trivedi, Co-Founder, Spext
Prof. Carl-Gustaf Jansson, Professor in Artificial Intelligence at KTH Royal Institute of a Technology.
Umakanth Soni, Founder, AI Foundry- Moderator
14.40 -15.20 Start -Ups: Finance & FinTech
The finance technological sector is young and is growing at rapid pace which is mainly fueled by large market base, an increasing start-up landscape and friendly governmental policies and regulations. The emerging trend in the blockchain movement, cryptocurrency and implementation of cloud computing. Fintech has played an impactful role in both the Financial and banking sectors and has redefined the ways many companies and firms conduct transactions on a daily basis. The various collaborations of traditional banks with Fintech companies which will lead to new forms of Big data with respect to personalized finance and analytics.
Sudeshna Singh, Head of Marketing, Tonetag
Sriram Subramanian, Co-Founder, Bnext
Deena Jacobn, Founder, OpenBank
Ricky Dhillon, CEO Otivr
Moderator – Rohit Radhakrishnan, Nasscom, Lead at 10,000 Startups
15.20-15.30 Tea leg stretch
15.30-15.45 Smart City & Smart Village Hackathon Final Three Teams Pitch. Starts with A short video, Pitches and a Presentation by Emirates the Sponsor for the Winning Tickets.
15.45 – 16.10 MedTech and Healthcare
The Indian MedTech market is very dynamic and the main key factors behind this are healthcare expenditures, technology development, aging population and chronic diseases. Moving from curing disease to preventing diseases with the help of more contemporary developments like IOT and Nanotechnology Medical devices are said to play a key factor in the delivery of quality of health care to the masses. Majority of the devices are imported; the legislation plays a key role in levelling the field between the foreign and domestic manufacturers.
Anna Åsberg, Vice President Operations IT, Astra Zeneca
Bhavjot Kaur, Co-Founder, Clinikk Healthcare
Geetha Manjunath, Founder, Niramai
Mr Bharath Cheluvaraju, Founding Member and Chief Product Officer, Sigtuple
Tuhin Bhowmick, Co-Founder, Pandorum Technologies
Moderator – Shampa Bari, Swecare
16.10-16-40 Start-Ups: FoodTech & AgTech
Sweden and India have different climatic conditions however they both share a long history when it comes to agriculture. 16th century during the time of Gustaf Vasa, Sweden's agricultural flourish began, and Sweden became a cereal exporting country. India's tryst with agriculture dates to Indus Valley Civilization and has continued till present day. Agriculture is India's economy driver. The two nations have key players in cooperative giants like Lantmännen and Amul. Knowledge and technology exchange between the nations in the agriculture field, given the history and experience that comes from it, will reap benefits for the future generations.
Saurabh Kumar, CEO and Founder, Agricix
Saleem Javid, CEO, SelectDine
Meghana Narayan, Founder, Slurrp Farm
Sanjoo Malhotra, India unlimited CEO, Tasting India Founder
Moderator – Johan Jörgensen, CEO, Sweden FoodTech
16.40-16.45 Smart City Smart Village Hackathon Results and Prize withFriman Christoffer, Retail Manager Emirates
16.45-17.45 Sweden-India Business Council Dialogue | Influencers and Change Makers
Sweden-India Business Council (SIBC) it one of the world'a most active country to country organizations. It is the first choice network for growing business between Sweden and India. Cecilia Oldne of SIBC in dialogue which Change Makers and Influencers from India and Sweden!

Moderator: Cecilia Oldne, Sweden-India Business Council's Brand Ambassador, Entrepreneur and Influencer


Speakers:

1. Malini Agarwal, Founder, Miss Malini Entertainment and Malini's Girl Tribe
2. Anna Kinberg Batra – Sweden-India Business Council's Executive Advisor, Speaker, Author, Leader in residence, Stockholm School of Economics

3. Ramarko Sengupta, Senior Editor, YourStory

4. Shiladitya Mukhopadhyaya, Host at ShunyaOne Podcast/IVM Media, TechEntrepreneur 

5. Arijit Barman, Deputy Resident Editor, The Economic Times
6. Raj Bordia, CEO and Founder, MoodIndia
7. Sailesh Tulsan, Founder, 021 Capital

8. Poyni Bhatt, CEO, Society for Innovation and Entrepreneurship (SINE)

**Seats are Limited hence preference will be given to individuals/ organizations in Business, Start-ups, Government, Research, Academia, Media, Civil Society.